Malpighi 63x oil PSFs
This page contains PSF full width half measurements (FWHM) from Malpighi's 63x NA 1.4 oil immersion objective in reflection mode with gold beads. See this page for an explanation how these measurements were performed.
Two wavelengths, 488 nm and 638 nm were used, both at two pinhole sizes, 0.5 AU and open pinhole, resulting in four sets of measurements. Voxel size is 31.0 nm x 31.0 nm x 148 nm.
Theoretical FWHM sizes
FWHM without pinhole or fully open pinhole in x,y according to 0.51*λ/1.4. FWHM with pinhole size zero in x,y according to 0.51*λ/(1.4*√2).
| Wavlength | 488 nm | 638 nm |
| --- | --- | --- |
| xy-FWHM with open Pinhole | 179 nm | 232 nm |
| xy-FWHM with Pinhole size 0 | 126 nm | 164 nm |
Plots of FWHM measurements
For details on these data, see tables below.
488nm, pinhole 05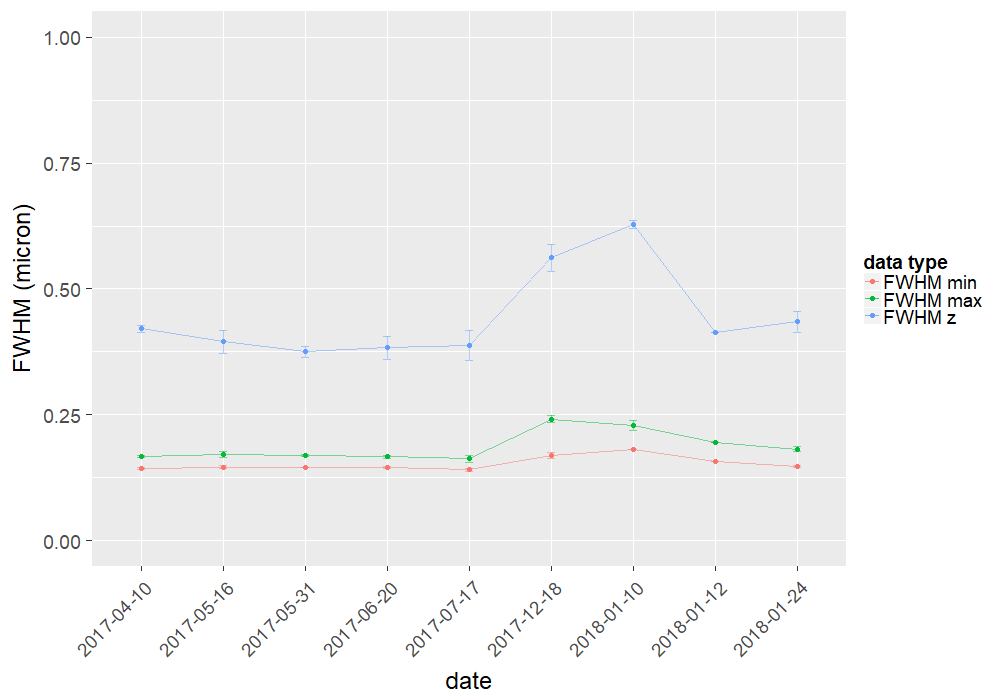 488nm, pinhole max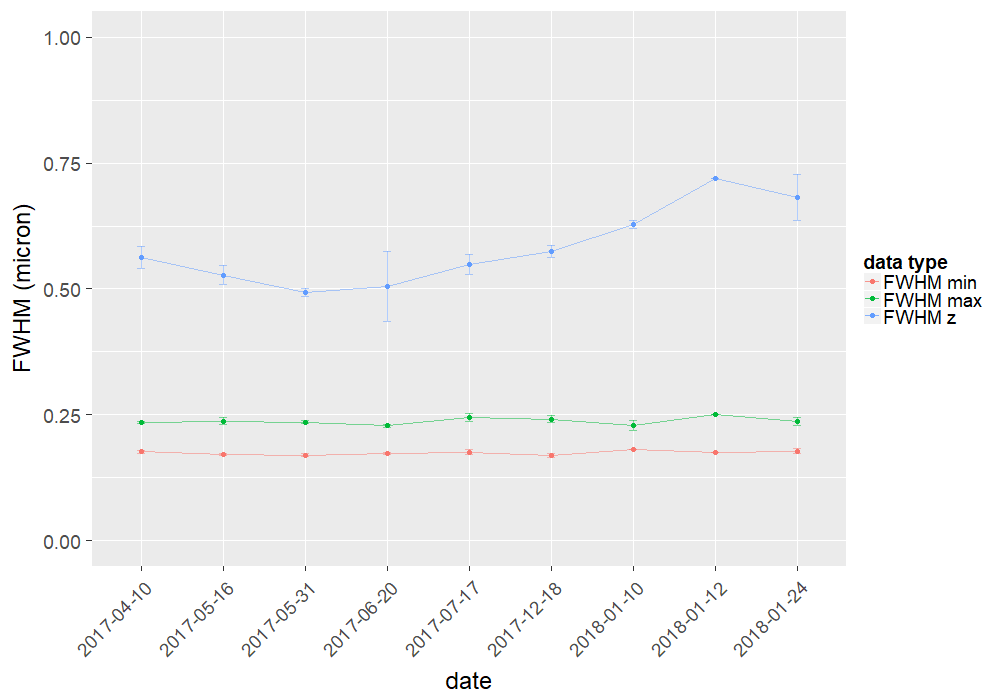 638nm, pinhole 05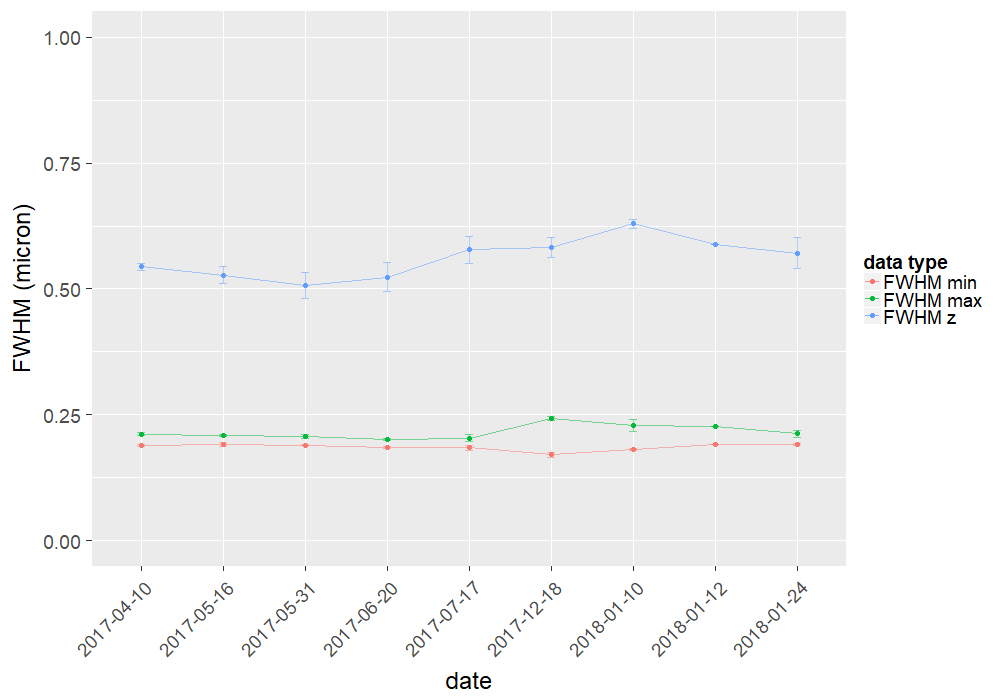 638nm, pinhole max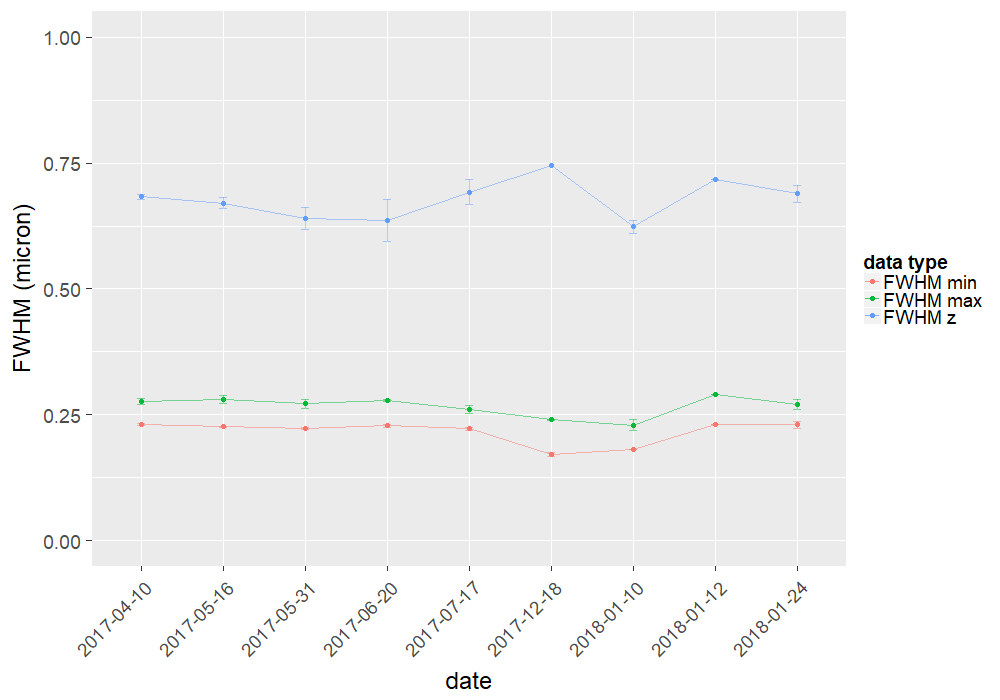 Explanation of table columns
Date: The date when the data set was recorded.
n: The number of beads evaluated in a given 3D image stacks.
FWHM max and FWHM min: A recorded PSF is usually not quite circular. Along the xy-plane, PSFj fits the PSF using a Gaussian ellipse. The largest and the smallest FWHM values found are given here in micrometer. The median value from the evaluated beads in the given data set is given.
FWHM z: The FWHM along the optical axis. Median value of the evaluated beads. All measurements were performed with PSFJ.
im xy: From each 3D image stack, the bead with the FWHMmin closest to the median was selected as example bead. The central section of the PSF is displayed in this image. Ideally, this image should reveal concentric rings of intensity values. To enlarge the image, adjust the magnification of your browser (probably with the ctrl+ keys, depending on your browser). Note that browsers may 'smoothen' images.
im xz: For the same bead, the xz-view. z-axis is from left to right, x-axis from top to bottom. Ideally this image should reveal a symmetric intensity distribution, with a mirror symmetry along the vertical and the horizontal axis. Reoccuring deviations, eg. a 'banana shape' would indicate a problem with the objective. Deviations for single beads may be caused by non-spherical beads or two or more very closely spaced beads.
im yz: For the same bead, the yz-view. See previous column for explanations. z-axis is from top to bottom, y-axis from left to right.
Filename: Filename of the original data set.
488nm, pinhole 05
| Date | n= | FWHM max | FWHM min | FWHM z | im xy | im xz | im yz | Filename | notes |
| --- | --- | --- | --- | --- | --- | --- | --- | --- | --- |
| 20170410 | 10 | 0.166 | 0.143 | 0.417 | | | | 20170410_malpighi_63xoil_488_05_01.csv | 01 |
| 20170410 | 17 | 0.17 | 0.146 | 0.429 | | | | 20170410_malpighi_63xoil_488_05_02.csv | 02 |
| 20170410 | 17 | 0.167 | 0.142 | 0.417 | | | | 20170410_malpighi_63xoil_488_05_03.csv | 03 |
| 20170516 | 7 | 0.169 | 0.145 | 0.37 | | | | 20170516_malpighi_63xoil_488_05_01.csv | 01 |
| 20170516 | 9 | 0.166 | 0.149 | 0.402 | | | | 20170516_malpighi_63xoil_488_05_02.csv | 02 |
| 20170516 | 14 | 0.179 | 0.145 | 0.413 | | | | 20170516_malpighi_63xoil_488_05_03.csv | 03 |
| 20170531 | 17 | 0.17 | 0.145 | 0.367 | | | | 20170531_malpighi_63xoil_488_05_01.csv | 01 |
| 20170531 | 18 | 0.168 | 0.146 | 0.383 | | | | 20170531_malpighi_63xoil_488_05_02.csv | 02 |
| 20170620 | 11 | 0.17 | 0.147 | 0.41 | | | | 20170620_malpighi_63xoil_488_05_01.csv | 01 |
| 20170620 | 6 | 0.166 | 0.144 | 0.373 | | | | 20170620_malpighi_63xoil_488_05_02.csv | 02 |
| 20170620 | 12 | 0.165 | 0.145 | 0.368 | | | | 20170620_malpighi_63xoil_488_05_03.csv | 03 |
| 20170717 | 14 | 0.161 | 0.139 | 0.422 | | | | 20170717_malpighi_63xoil_488_05_oilfbetweenstacks.csv | oilfbetweenstacks |
| 20170717 | 10 | 0.162 | 0.139 | 0.416 | | | | 20170717_malpighi_63xoil_488_05_oilfbetweenstacks02.csv | oilfbetweenstacks02 |
| 20170717 | 7 | 0.166 | 0.147 | 0.388 | | | | 20170717_malpighi_63xoil_488_05_oilfbetweenstacks03.csv | oilfbetweenstacks03 |
| 20170717 | 2 | 0.153 | 0.141 | 0.346 | | | | 20170717_malpighi_63xoil_488_05_oilhfbetweenstacks.csv | oilhfbetweenstacks |
| 20170717 | 4 | 0.173 | 0.143 | 0.361 | | | | 20170717_malpighi_63xoil_488_05_oilhfbetweenstacks02.csv | oilhfbetweenstacks02 |
| 20170717 | 5 | 0.161 | 0.139 | 0.389 | | | | 20170717_malpighi_63xoil_488_05_oilhfbetweenstacks03.csv | oilhfbetweenstacks03 |
| 20171218 | 3 | 0.248 | 0.163 | 0.58 | | | | 20171218_malpighi_63xoil_488_05_01.csv | 01 |
| 20171218 | 4 | 0.234 | 0.174 | 0.575 | | | | 20171218_malpighi_63xoil_488_05_02.csv | 02 |
| 20171218 | 6 | 0.242 | 0.173 | 0.53 | | | | 20171218_malpighi_63xoil_488_05_03.csv | 03 |
| 20180110 | 6 | 0.222 | 0.182 | 0.623 | | | | 20180110_malpighi_63xoil_488_05_03.csv | 03 |
| 20180110 | 5 | 0.236 | 0.182 | 0.633 | | | | 20180110_malpighi_63xoil_488_05_04.csv | 04 |
| 20180112 | 14 | 0.195 | 0.157 | 0.414 | | | | 20180112_malpighi_63xoil_488_05_01nachRep.csv | 01nachRep |
| 20180124 | 2 | 0.178 | 0.149 | 0.412 | | | | 20180124_malpighi_63xoil_488_05_01.csv | 01 |
| 20180124 | 12 | 0.187 | 0.149 | 0.425 | | | | 20180124_malpighi_63xoil_488_05_02.csv | 02 |
| 20180124 | 13 | 0.19 | 0.149 | 0.422 | | | | 20180124_malpighi_63xoil_488_05_03.csv | 03 |
| 20180124 | 3 | 0.173 | 0.15 | 0.421 | | | | 20180124_malpighi_63xoil_488_05_04.csv | 04 |
| 20180124 | 8 | 0.187 | 0.147 | 0.425 | | | | 20180124_malpighi_63xoil_488_05_05.csv | 05 |
| 20180124 | 9 | 0.176 | 0.144 | 0.432 | | | | 20180124_malpighi_63xoil_488_05_06.csv | 06 |
| 20180124 | 5 | 0.183 | 0.146 | 0.454 | | | | 20180124_malpighi_63xoil_488_05_07.csv | 07 |
| 20180124 | 4 | 0.181 | 0.149 | 0.422 | | | | 20180124_malpighi_63xoil_488_05_08.csv | 08 |
| 20180124 | 4 | 0.185 | 0.147 | 0.472 | | | | 20180124_malpighi_63xoil_488_05_09.csv | 09 |
| 20180124 | 7 | 0.18 | 0.146 | 0.46 | | | | 20180124_malpighi_63xoil_488_05_10.csv | 10 |
488nm, pinhole max
| Date | n= | FWHM max | FWHM min | FWHM z | im xy | im xz | im yz | Filename | notes |
| --- | --- | --- | --- | --- | --- | --- | --- | --- | --- |
| 20170410 | 6 | 0.235 | 0.173 | 0.547 | | | | 20170410_malpighi_63xoil_488_max_01.csv | 01 |
| 20170410 | 15 | 0.232 | 0.179 | 0.552 | | | | 20170410_malpighi_63xoil_488_max_02.csv | 02 |
| 20170410 | 18 | 0.236 | 0.178 | 0.588 | | | | 20170410_malpighi_63xoil_488_max_03.csv | 03 |
| 20170516 | 7 | 0.243 | 0.172 | 0.512 | | | | 20170516_malpighi_63xoil_488_max_.csv | |
| 20170516 | 8 | 0.24 | 0.173 | 0.523 | | | | 20170516_malpighi_63xoil_488_max_02.csv | 02 |
| 20170516 | 6 | 0.23 | 0.17 | 0.548 | | | | 20170516_malpighi_63xoil_488_max_03.csv | 03 |
| 20170531 | 13 | 0.239 | 0.173 | 0.486 | | | | 20170531_malpighi_63xoil_488_max_01.csv | 01 |
| 20170531 | 14 | 0.235 | 0.167 | 0.502 | | | | 20170531_malpighi_63xoil_488_max_02.csv | 02 |
| 20170531 | 4 | 0.233 | 0.171 | 0.49 | | | | 20170531_malpighi_63xoil_488_max_03.csv | 03 |
| 20170620 | 9 | 0.229 | 0.176 | 0.586 | | | | 20170620_malpighi_63xoil_488_max_01.csv | 01 |
| 20170620 | 4 | 0.231 | 0.174 | 0.462 | | | | 20170620_malpighi_63xoil_488_max_02.csv | 02 |
| 20170620 | 7 | 0.224 | 0.171 | 0.467 | | | | 20170620_malpighi_63xoil_488_max_03.csv | 03 |
| 20170717 | 6 | 0.234 | 0.172 | 0.532 | | | | 20170717_malpighi_63xoil_488_max_oilfbetweenstacks.csv | oilfbetweenstacks |
| 20170717 | 5 | 0.239 | 0.174 | 0.569 | | | | 20170717_malpighi_63xoil_488_max_oilfbetweenstacks02.csv | oilfbetweenstacks02 |
| 20170717 | 5 | 0.241 | 0.168 | 0.543 | | | | 20170717_malpighi_63xoil_488_max_oilfbetweenstacks03.csv | oilfbetweenstacks03 |
| 20170717 | 5 | 0.254 | 0.178 | 0.574 | | | | 20170717_malpighi_63xoil_488_max_oilhfbetweenstacks.csv | oilhfbetweenstacks |
| 20170717 | 4 | 0.246 | 0.181 | 0.544 | | | | 20170717_malpighi_63xoil_488_max_oilhfbetweenstacks02.csv | oilhfbetweenstacks02 |
| 20170717 | 4 | 0.252 | 0.181 | 0.525 | | | | 20170717_malpighi_63xoil_488_max_oilhfbetweenstacks03.csv | oilhfbetweenstacks03 |
| 20171218 | 20 | 0.248 | 0.167 | 0.586 | | | | 20171218_malpighi_63xoil_488_max_01.csv | 01 |
| 20171218 | 4 | 0.234 | 0.174 | 0.575 | | | | 20171218_malpighi_63xoil_488_max_02.csv | 02 |
| 20171218 | 14 | 0.241 | 0.169 | 0.562 | | | | 20171218_malpighi_63xoil_488_max_03.csv | 03 |
| 20180110 | 6 | 0.222 | 0.182 | 0.623 | | | | 20180110_malpighi_63xoil_488_max_03.csv | 03 |
| 20180110 | 5 | 0.236 | 0.182 | 0.633 | | | | 20180110_malpighi_63xoil_488_max_04.csv | 04 |
| 20180112 | 11 | 0.25 | 0.175 | 0.719 | | | | 20180112_malpighi_63xoil_488_max_01nachRep.csv | 01nachRep |
| 20180124 | 9 | 0.249 | 0.175 | 0.673 | | | | 20180124_malpighi_63xoil_488_max_02.csv | 02 |
| 20180124 | 9 | 0.243 | 0.172 | 0.629 | | | | 20180124_malpighi_63xoil_488_max_03.csv | 03 |
| 20180124 | 1 | 0.231 | 0.172 | 0.674 | | | | 20180124_malpighi_63xoil_488_max_04.csv | 04 |
| 20180124 | 1 | 0.233 | 0.183 | 0.615 | | | | 20180124_malpighi_63xoil_488_max_05.csv | 05 |
| 20180124 | 1 | 0.235 | 0.185 | 0.705 | | | | 20180124_malpighi_63xoil_488_max_06.csv | 06 |
| 20180124 | 1 | 0.236 | 0.183 | 0.699 | | | | 20180124_malpighi_63xoil_488_max_07.csv | 07 |
| 20180124 | 1 | 0.224 | 0.178 | 0.651 | | | | 20180124_malpighi_63xoil_488_max_08.csv | 08 |
| 20180124 | 1 | 0.239 | 0.182 | 0.739 | | | | 20180124_malpighi_63xoil_488_max_09.csv | 09 |
| 20180124 | 2 | 0.242 | 0.175 | 0.75 | | | | 20180124_malpighi_63xoil_488_max_10.csv | 10 |
638nm, pinhole 05
| Date | n= | FWHM max | FWHM min | FWHM z | im xy | im xz | im yz | Filename | notes |
| --- | --- | --- | --- | --- | --- | --- | --- | --- | --- |
| 20170410 | 6 | 0.213 | 0.191 | 0.539 | | | | 20170410_malpighi_63xoil_638_05_01.csv | 01 |
| 20170410 | 6 | 0.215 | 0.191 | 0.541 | | | | 20170410_malpighi_63xoil_638_05_02.csv | 02 |
| 20170410 | 15 | 0.208 | 0.187 | 0.551 | | | | 20170410_malpighi_63xoil_638_05_03.csv | 03 |
| 20170516 | 4 | 0.209 | 0.196 | 0.51 | | | | 20170516_malpighi_63xoil_638_05_01.csv | 01 |
| 20170516 | 5 | 0.211 | 0.189 | 0.527 | | | | 20170516_malpighi_63xoil_638_05_02.csv | 02 |
| 20170516 | 6 | 0.207 | 0.188 | 0.544 | | | | 20170516_malpighi_63xoil_638_05_03.csv | 03 |
| 20170531 | 13 | 0.205 | 0.191 | 0.489 | | | | 20170531_malpighi_63xoil_638_05_01.csv | 01 |
| 20170531 | 10 | 0.21 | 0.189 | 0.525 | | | | 20170531_malpighi_63xoil_638_05_02.csv | 02 |
| 20170620 | 8 | 0.2 | 0.186 | 0.557 | | | | 20170620_malpighi_63xoil_638_05_01.csv | 01 |
| 20170620 | 5 | 0.204 | 0.183 | 0.507 | | | | 20170620_malpighi_63xoil_638_05_02.csv | 02 |
| 20170620 | 9 | 0.201 | 0.187 | 0.507 | | | | 20170620_malpighi_63xoil_638_05_03.csv | 03 |
| 20170717 | 8 | 0.211 | 0.187 | 0.58 | | | | 20170717_malpighi_63xoil_638_05_oilfbetweenstacks.csv | oilfbetweenstacks |
| 20170717 | 11 | 0.207 | 0.191 | 0.598 | | | | 20170717_malpighi_63xoil_638_05_oilfbetweenstacks02.csv | oilfbetweenstacks02 |
| 20170717 | 6 | 0.206 | 0.186 | 0.529 | | | | 20170717_malpighi_63xoil_638_05_oilfbetweenstacks03.csv | oilfbetweenstacks03 |
| 20170717 | 7 | 0.191 | 0.178 | 0.574 | | | | 20170717_malpighi_63xoil_638_05_oilhfbetweenstacks.csv | oilhfbetweenstacks |
| 20170717 | 10 | 0.201 | 0.181 | 0.583 | | | | 20170717_malpighi_63xoil_638_05_oilhfbetweenstacks02.csv | oilhfbetweenstacks02 |
| 20170717 | 6 | 0.208 | 0.184 | 0.603 | | | | 20170717_malpighi_63xoil_638_05_oilhfbetweenstacks03.csv | oilhfbetweenstacks03 |
| 20171218 | 17 | 0.247 | 0.166 | 0.605 | | | | 20171218_malpighi_63xoil_638_05_01.csv | 01 |
| 20171218 | 4 | 0.241 | 0.171 | 0.577 | | | | 20171218_malpighi_63xoil_638_05_02.csv | 02 |
| 20171218 | 6 | 0.241 | 0.175 | 0.566 | | | | 20171218_malpighi_63xoil_638_05_03.csv | 03 |
| 20180110 | 4 | 0.221 | 0.18 | 0.623 | | | | 20180110_malpighi_63xoil_638_05_03.csv | 03 |
| 20180110 | 7 | 0.237 | 0.182 | 0.636 | | | | 20180110_malpighi_63xoil_638_05_04.csv | 04 |
| 20180112 | 12 | 0.226 | 0.192 | 0.589 | | | | 20180112_malpighi_63xoil_638_05_01nachRep.csv | 01nachRep |
| 20180124 | 2 | 0.211 | 0.191 | 0.541 | | | | 20180124_malpighi_63xoil_638_05_01.csv | 01 |
| 20180124 | 6 | 0.227 | 0.195 | 0.537 | | | | 20180124_malpighi_63xoil_638_05_02.csv | 02 |
| 20180124 | 11 | 0.219 | 0.194 | 0.538 | | | | 20180124_malpighi_63xoil_638_05_03.csv | 03 |
| 20180124 | 1 | 0.214 | 0.191 | 0.547 | | | | 20180124_malpighi_63xoil_638_05_04.csv | 04 |
| 20180124 | 5 | 0.207 | 0.19 | 0.584 | | | | 20180124_malpighi_63xoil_638_05_05.csv | 05 |
| 20180124 | 2 | 0.212 | 0.192 | 0.559 | | | | 20180124_malpighi_63xoil_638_05_06.csv | 06 |
| 20180124 | 4 | 0.216 | 0.189 | 0.579 | | | | 20180124_malpighi_63xoil_638_05_07.csv | 07 |
| 20180124 | 2 | 0.213 | 0.195 | 0.613 | | | | 20180124_malpighi_63xoil_638_05_08.csv | 08 |
| 20180124 | 2 | 0.204 | 0.188 | 0.612 | | | | 20180124_malpighi_63xoil_638_05_09.csv | 09 |
| 20180124 | 4 | 0.203 | 0.189 | 0.603 | | | | 20180124_malpighi_63xoil_638_05_10.csv | 10 |
638nm, pinhole max
| Date | n= | FWHM max | FWHM min | FWHM z | im xy | im xz | im yz | Filename | notes |
| --- | --- | --- | --- | --- | --- | --- | --- | --- | --- |
| 20170410 | 7 | 0.281 | 0.229 | 0.682 | | | | 20170410_malpighi_63xoil_638_max_01.csv | 01 |
| 20170410 | 4 | 0.27 | 0.231 | 0.679 | | | | 20170410_malpighi_63xoil_638_max_02.csv | 02 |
| 20170410 | 12 | 0.278 | 0.234 | 0.688 | | | | 20170410_malpighi_63xoil_638_max_03.csv | 03 |
| 20170516 | 4 | 0.286 | 0.226 | 0.662 | | | | 20170516_malpighi_63xoil_638_max_01.csv | 01 |
| 20170516 | 6 | 0.285 | 0.225 | 0.667 | | | | 20170516_malpighi_63xoil_638_max_02.csv | 02 |
| 20170516 | 5 | 0.271 | 0.227 | 0.683 | | | | 20170516_malpighi_63xoil_638_max_03.csv | 03 |
| 20170531 | 10 | 0.266 | 0.224 | 0.624 | | | | 20170531_malpighi_63xoil_638_max_01.csv | 01 |
| 20170531 | 10 | 0.278 | 0.222 | 0.655 | | | | 20170531_malpighi_63xoil_638_max_02.csv | 02 |
| 20170620 | 6 | 0.277 | 0.23 | 0.682 | | | | 20170620_malpighi_63xoil_638_max_01.csv | 01 |
| 20170620 | 4 | 0.281 | 0.231 | 0.6 | | | | 20170620_malpighi_63xoil_638_max_02.csv | 02 |
| 20170620 | 6 | 0.279 | 0.225 | 0.625 | | | | 20170620_malpighi_63xoil_638_max_03.csv | 03 |
| 20170717 | 5 | 0.26 | 0.221 | 0.692 | | | | 20170717_malpighi_63xoil_638_max_oilfbetweenstacks.csv | oilfbetweenstacks |
| 20170717 | 6 | 0.267 | 0.22 | 0.74 | | | | 20170717_malpighi_63xoil_638_max_oilfbetweenstacks02.csv | oilfbetweenstacks02 |
| 20170717 | 3 | 0.275 | 0.22 | 0.689 | | | | 20170717_malpighi_63xoil_638_max_oilfbetweenstacks03.csv | oilfbetweenstacks03 |
| 20170717 | 3 | 0.257 | 0.225 | 0.668 | | | | 20170717_malpighi_63xoil_638_max_oilhfbetweenstacks.csv | oilhfbetweenstacks |
| 20170717 | 7 | 0.251 | 0.226 | 0.68 | | | | 20170717_malpighi_63xoil_638_max_oilhfbetweenstacks02.csv | oilhfbetweenstacks02 |
| 20170717 | 5 | 0.256 | 0.223 | 0.683 | | | | 20170717_malpighi_63xoil_638_max_oilhfbetweenstacks03.csv | oilhfbetweenstacks03 |
| 20171218 | 2 | 0.239 | 0.167 | 1.095 | | | | 20171218_malpighi_63xoil_638_max_01.csv | 01 |
| 20171218 | 4 | 0.241 | 0.171 | 0.577 | | | | 20171218_malpighi_63xoil_638_max_02.csv | 02 |
| 20171218 | 6 | 0.241 | 0.175 | 0.566 | | | | 20171218_malpighi_63xoil_638_max_03.csv | 03 |
| 20180110 | 8 | 0.222 | 0.182 | 0.614 | | | | 20180110_malpighi_63xoil_638_max_03.csv | 03 |
| 20180110 | 7 | 0.237 | 0.181 | 0.633 | | | | 20180110_malpighi_63xoil_638_max_04.csv | 04 |
| 20180112 | 6 | 0.291 | 0.23 | 0.718 | | | | 20180112_malpighi_63xoil_638_max_01nachRep.csv | 01nachRep |
| 20180124 | 2 | 0.293 | 0.24 | 0.685 | | | | 20180124_malpighi_63xoil_638_max_01.csv | 01 |
| 20180124 | 4 | 0.271 | 0.223 | 0.693 | | | | 20180124_malpighi_63xoil_638_max_02.csv | 02 |
| 20180124 | 7 | 0.273 | 0.226 | 0.669 | | | | 20180124_malpighi_63xoil_638_max_03.csv | 03 |
| 20180124 | 1 | 0.269 | 0.238 | 0.662 | | | | 20180124_malpighi_63xoil_638_max_04.csv | 04 |
| 20180124 | 4 | 0.278 | 0.226 | 0.69 | | | | 20180124_malpighi_63xoil_638_max_05.csv | 05 |
| 20180124 | 1 | 0.265 | 0.229 | 0.68 | | | | 20180124_malpighi_63xoil_638_max_06.csv | 06 |
| 20180124 | 5 | 0.273 | 0.235 | 0.681 | | | | 20180124_malpighi_63xoil_638_max_07.csv | 07 |
| 20180124 | 1 | 0.267 | 0.225 | 0.716 | | | | 20180124_malpighi_63xoil_638_max_08.csv | 08 |
| 20180124 | 4 | 0.267 | 0.234 | 0.699 | | | | 20180124_malpighi_63xoil_638_max_09.csv | 09 |
| 20180124 | 1 | 0.255 | 0.224 | 0.714 | | | | 20180124_malpighi_63xoil_638_max_10.csv | 10 |