About us & Contact
About us
Welcome to the Core Facility Bioimaging. We provide access to state of the art light microscopy systems, from standard to high-end, and to image analysis to researchers of the BMC. Beyond that, we are happy to provide available capacity to users from other institutes and institutions.
Our instrumentation includes bright field, fluorescence, confocal, multi-photon and superresolution (STED) microscopes. Available techniques include phase contrast, live-cell microscopy, motorized stages for tile and mosaic scanning, fluorescence recovery after photobleaching (FRAP), deconvolution, and time gating. As European Reference Site for Leica Microsystems, our equipment receives top maintenance to ensure ongoing maximum performance. Our staff provides advice, training and support.
The core facility opened in fall 2015 in the newly constructed building of the BMC at the Großhadern-Martinried campus. It is hosted by and a part of the Walter-Brendel-Zentrum für Experimentelle Medizin (WBex), one of eight chairs at the BMC.
Address
Ludwig-Maximilians-Universität München
Core Facility Bioimaging
Biomedizinisches Centrum (BMC)
Großhaderner Str. 9
82152 Planegg-Martinsried
How to get here
The web site Campus Martinsried provides a page with directions to the campus including a campus map. Apart from the fact that their final destination is the neighboring Max-Planck-Institute, these instructions seem to be pretty accurate.
Wider Area Map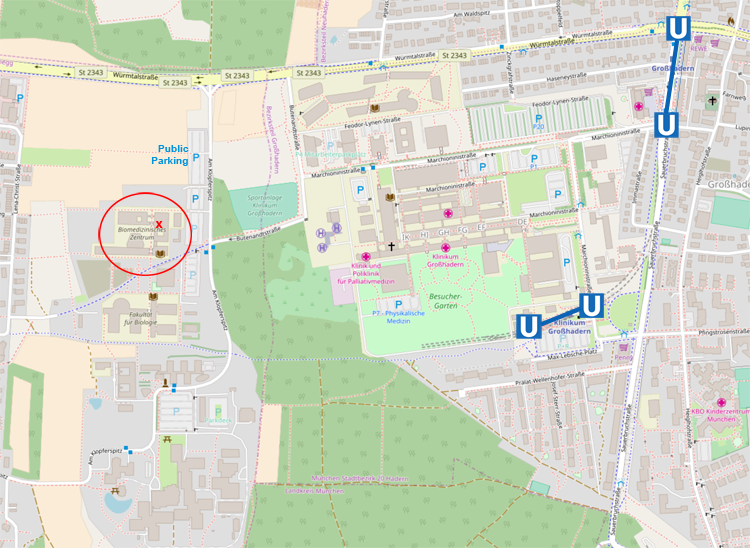 Map from OpenStreetMap under Open Database License (ODbL)
Building Area Map
Our office is at the red X on the 2nd Floor. The facility rooms are around the red M. Public entries to the building are marked with blue arrows.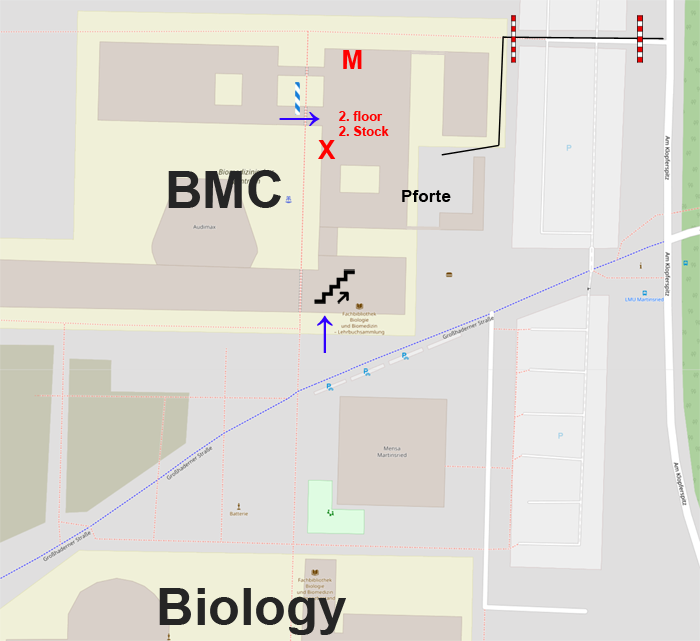 Map from OpenStreetMap under Open Database License (ODbL)
Urheber Corporate Design (ohne Kürzel LMU)
Haak & Nakat GmbH (www.haak-nakat.de)