Seminar on Antibody Validation
by Matt Baker, Director R&D and Business Development for Thermo Fisher Antibodies and Immunoassays
24.05.2017
The Core Facility Bioimaging hosts the seminar
"Validation of Antibody Specificity"
by Matt Baker,
Director R&D and Business Development for Thermo Fisher Antibodies and Immunoassays
Wednesday, 24. May 2017, 15:00

at the seminar room N02.017
Matt Baker is a specialist for antibody development and recombinant antibodies. He works on validation of the company's 78.000 antibodies following the guidelines of the International Working Group on Antibody Validation (IWGAV) published in Nature Methods (Uhlen et al. 2016). He will give an overview about the company's global antibody validation strategy and answer questions.
Snacks will be provided.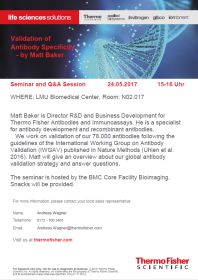 download pdf-flyer.